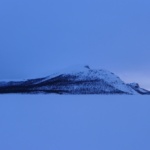 The third KONNECT workshop was held in Kilpisjärvi on February 26 – March 3 2017
The workhop was incorporated into a new graduate program – MA in Ecology and Contemporary Performance (MAECP) at the UniArts Helsinki. The MAECP had just commenced in the fall of 2016 and Konnect was held in the end of February 2017. Everything was new, fresh and exploratory.
The venue of Konnect was the biological research station of Kilpisjärvi in Samaland, on the joint borders of Finland, Sweden and Norway.
The remote setting in the midst of winter was inductive to contemplations and explorations on human/nature interactions. Local scientists and artists, as well as visiting artists from afar (some through skype) shared their work and expertise with the students during the course of the workshop.
Ample time was devoted to student presentations and discussions, as well as outdoor explorations of the winterscape.